"Exhibit your work and grab lucrative opportunities"
While growing as a graphic designer, we keep on discovering such authentic resources which can play a crucial role in our success. You all will agree that the creative skills of graphic designers need a continuous patronage, so they keep on coming up with exceptional ideas.  Therefore, I always keep on searching for new resources to submit and share my design work…it helps us earn a bright future.
However, today I have something really exclusive to inform my ingenious designer friends about. Lately, while surfing the net I stumbled across a design submitting site named "MycroBurst.com". Although it is still in "beta" but its impressive interface and features really clicked me. 
The exclusive features of the site:
It is a platform where design contests will be held. You can get anything designed…logo design, business cards, website,  posters or anything related to graphic design.
Designers will be submitting their designs, trying to meet the needs of your design project.
As the design contest reaches its last date, a winning design will be selected and the designer will win the prize amount.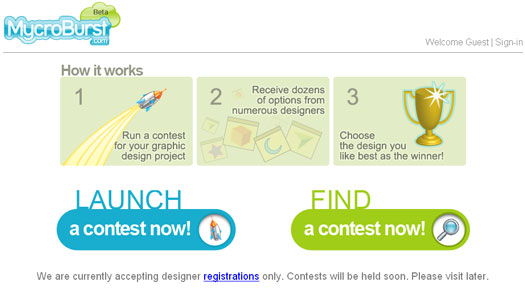 The design contests are not live yet but they are accepting registrations from designers. I think it's the high time to get ourselves registered, so our creative juices get flowing as soon as the contests are announced.
It is very important for freelance graphic designers to promote their work properly but they should be doing it on right places. Design contest site is an ideal choice…don't you think so?? However, this reminds me of a David Aireys's post where he claims Design Contest Sites to be Bad for Business…I disagree with his opinion to some extent.
He thinks designers on such sites come up with look similar logos and not much professional designs. However, I personally think such sites are a unique resource for aspiring designers who have freshly graduated or aim to launch themselves in the world of Graphic Designing. Don't you think such design contest sites provide great opportunity to gain potential clients or you agree with David's words?
So gear up guys…no time to waste