Creating a blog is easy. But to build and sustain an online platform with a reputable image and devoted fan following is extremely difficult. I myself have endured various hardships and difficulties while establishing and directing GraphicDesignBlog.org to where it is now. This is because you don't just have to create a web blog. You have to erect a platform that is personable, credible and reliable.
In the human world, we have celebrities who are distinct and unique because of their star qualities and attributes. Similarly in the design blogosphere, we have some successful blogs that outshine others because of their rich content, attractive appearance and user-friendly interface. Today, I thought of comparing such famous design blogs with celebrities that match the personality types of famous Hollywood celebrities. But before we proceed, please keep in mind that this exercise is just for fun and should not be taken seriously.
Have a look at these crazy celebrity resemblances which I have made up with famous design blogs. Once again, let me remind you…its all just for fun, so my design blogger fellows don't take it to heart

1. 'Smashing Magazine' is like 'Miley Cyrus':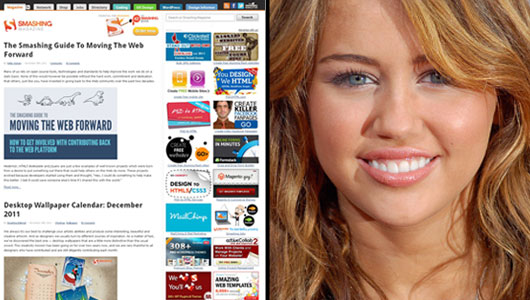 Smashing Magazine is a popular design blog for designers and developers. They can be compared to Miley Cyrus…Glamorous, Multi-talented and Famous. Just like teenage sensation is a singer cum actress, Smashing Magazine has an all-round approach as it covers everything related to design on their blog. Oh…and both of them have authored a book as well.

2. 'Web Designer Depot:' is like 'Tom Hanks':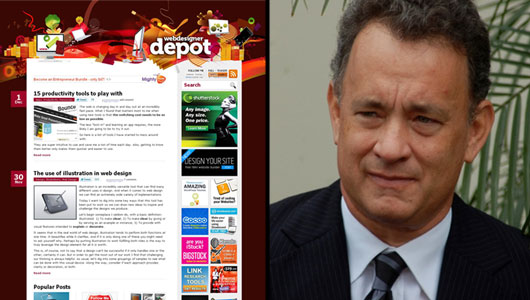 Web Designer Depot is a well-settled blog and has massive volume of followers on its blog. They have cemented such a strong foothold on the blogosphere that almost everything they publish becomes an instant hit. Reminds me of the award-winning actor Tom Hanks, who turns almost every movie he works into a blockbuster hit.
3. 'Little Box of Ideas' is like 'Angelina Jolie':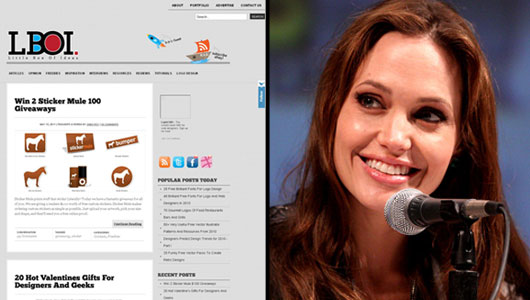 LBOI is a well-known design blog run by graphic designer Sneh Roy. Her online presence and brave designing reminds me of Angelina Jolie, renowned for her roles in action movies. To me, Sneh Roy is the blogosphere version of Angelina Jolie. Bold, Dashing and Persistent.

4. 'Just Creative Design' is like 'Brad Pitt ':
Just Creative Design is another eminent design blog run by graphic and logo designer Jacob Cass. To me, Just Creative Design is the Brad Pitt of design world. The first reason, I'm sure most girls would agree to, is the good looks and dashing personality of Jacob Cass. ;). Secondly, just like Brad Pitt works in few but successful movies, Just Creative Design is updated steadily but productively.
5. 'UnderConsideration' is like 'Oprah Winfrey ':
Underconsideration is our Oprah Winfrey of the design world. The popular talk show host was well known for her TV-show that held discussions on self-improvement and promoting self-help ideas. Similarly, Underconsideration is has sections like "Brand New" and "Speak Up" where they discuss about various brands and give their opinions and pointers on design-related issues.