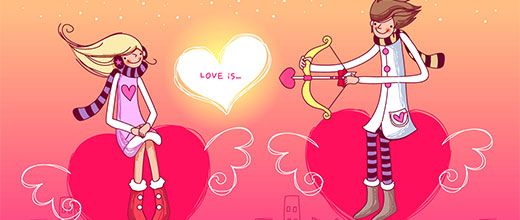 Valentine's Day is around the corner. It is that special day when two loved ones express their deepest feelings for one another. The sentiments are communicated either in the form of romantic words or by exchanging gifts like teddy bears, chocolates and flowers. Even for single people, Valentine's Day is a chance to find a partner using the best possible pickup lines. Now that is something professionals like designers and developers are not really renowned for.
Designers are usually taken as geeks or nerds who sit all day on their laptops 'playing with their tools'. They are not really considered good at use of words. But when it comes to artistically expressing feelings and emotions, nobody does it better than a designer. You give them the words, and they will illustrate them in the best way you can imagine.
Keeping that and the Valentine's spirit in mind, we at Graphic Design Blog have launched an exclusive 'one-liners design contest' for designers. This is your chance to show how one can express the meaning of words to their loved ones through the power of design.
Here are the Rules:
Before you start participating in the contest, here are a few things you should know.
• Create a graphic illustration of any one of the 17 one-liners listed below that expresses its essence. It could be a poster, greeting card or any other form of design.
• Upload graphic illustration on the Web (You can upload your illustrations on Imgur or Flickr!) and paste your links in the comments below. Designers can submit as many entries as they like. More entries means more chances of winning. But use 'ONE' one-liner per design.
• Please use one-liners from the given list only. Designs containing any other one-liner will not be considered.
• The deadline for design submission is 14th February 2014.
At the end, the best 3 designs will be selected and we'll feature them on our blog.
Here are your choices, 17 one-liners:
We have compiled a list of funny, clever and sarcastic Valentine's Day one-liners from which you can choose to create your design. Remember, you can submit multiple designs for as many one-liners you want.
I love you with all my art!
I Googled your name the other day. It said "I'm Feeling Lucky"
You auto-complete me.
Roses are red, violets are blue, let's cut the crap, I love you
Thank God love is blind!
Behind every successful man there is a woman. No wonder I'm still a failure.
You're too sweet. I'm afraid I might get diabetes.
If I had a nickel for every word you say, I'd be filthy rich by now.
You look like my third wife. And I've only been married twice!
Dear Valentine's Day…I'm single and ready to mingle!
I'm going to spend Valentine's Day with my Ex…..Box 360.
We met on Twitter. I call her my Tweetheart.
I must be in heaven…because you look like my dead aunt.
Love is in the air. Oh no that's just my bad breath.
I'm rich! Will you be my Valentine?
Thanks for giving me cavities Sweety!
If it weren't for me, you could have ended up with far worse.
So what are you waiting for guys? Get started and draw your hearts out in this exciting Valentine's special design contest. Even if you don't, then you will surely end up winning our hearts.