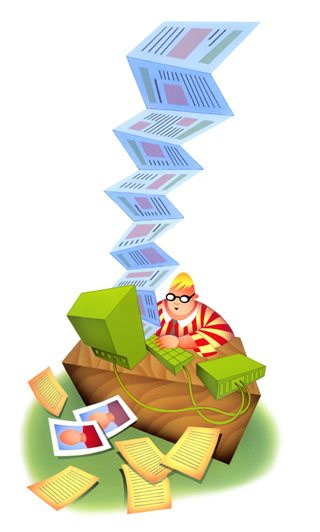 If I tell you that graphic designing is the fastest growing career in today's date and becoming competitive with every passing day, I am sure it won't be shocking at all for you to know. It is the best career for creative people where they get to express themselves with great ease and earn a decent living at the same time. Without any restriction to age or sex, I know designers at the age of 14 who are freelancing and running their graphic designing business quiet well.
Now don't think that with your minute awareness about Photoshop and Adobe Illustrator, you can give hard time to your fellow graphic designers. You need to know all the tricks to get your world rocking with your creativity and I would really love to be the source of your success!
Here is a sneak peek into how to become a productive and successful designer. Check this out:
Getting a Graphic Design Degree from a reliable college is an outstanding accomplishment.
If you don't have enough money to go to a Graphic Design School, try to do one year online crash course in design to get a certificate.
Mastering in programs such as Photoshop, Illustrator and InDesign make you a more productive and creative designer.
Keep on seeking for sources of design inspiration because inspiration is the main part of any artistic career.
Keep up to date with the design events and seminars, happening in the internet world.
Research on the accomplishments and contributions of other designers.
Join design forums, comment on blogs and write articles to become more involved in design community.
Practice photography because having the ability to shoot your own projects in real life can give you a real edge.
Do have relevant information about web designing as well, because many graphic design job listings ask the designer to have some web design experience.
Create personal work, non profit work or other projects that allow you more creative freedom so you don't feel constantly trapped and restricted.
A web portfolio is a must because if you plan on freelancing, your website will be most important and the sooner you get it up the better off you will be.
Always accept criticism and work on it positively.
Follow some of the great design blogs and get registered to credible websites with tutorials.
I hope this post has not been too long and rambling, but hopefully you must have learnt something interesting, motivating or even inspirational to help you prepare for a career in graphic design. Feel free to add your own suggestions and comments in the comment section below!