Jon Jamora Portfolio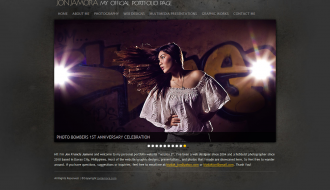 Design Information
Submitted on : 19 Aug 11
Category : Photography,Web Designs
Give some Good Rate :
Author's Description :
By Jon Jamora
I'm Jon Jamora, from Davao city, Philippines. I've been designing and developing websites since 2005 and im also a hobbyist photographer. I specialize on designing and developing WordPress websites, but i also have experience on designing other websites such as E-commerce and other CMS websites as well.
Website Address: http://www.jonjamora.com